Superpowered Free and White Label License FAQ
By downloading Superpowered Audio SDK, you are obligated to comply with Superpowered license terms, either Free or White Label.
Our goal with our license structure is to support entrepreneurial teams, big and small, while also ensuring growth and sustainability for Superpowered.​We align license fees with reasonable build/buy analysis and overall value to our partners. We've created an easy-to-understand flow chart that shows how apps are eligible for and in compliance with our Free License.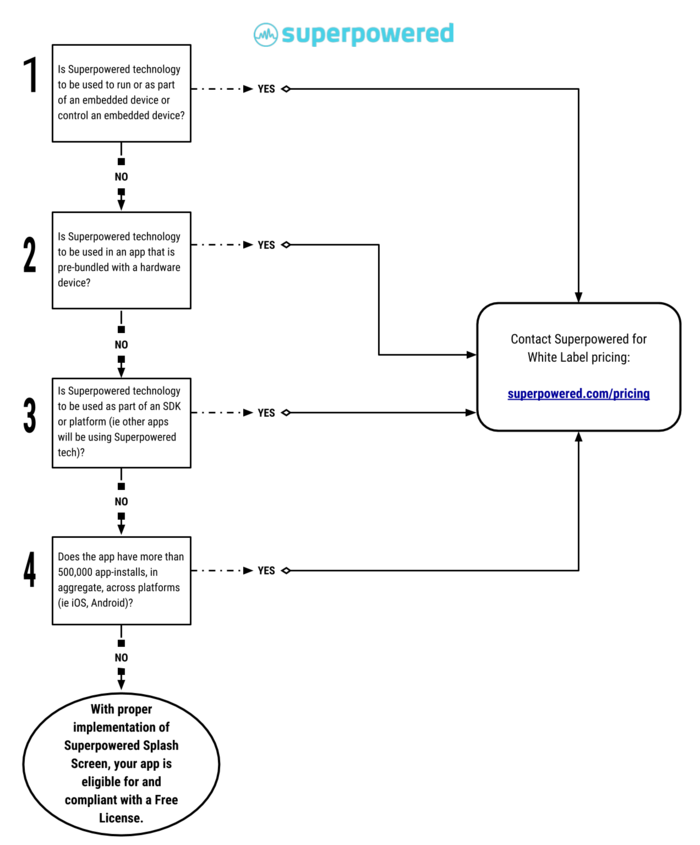 How long is the evaluation period?
Development teams can evaluate Superpowered privately without time limit. Any public launch of an app or product using Superpowered requires compliance with our licence terms: either Free License or White Label License.
How does the Free License work?
Developers can use Superpowered for free if ALL of the following three conditions are met:
the app has fewer than 500,000 total app-installs,
is distributed via a public app store and
provides credit via a properly‡ implemented Superpowered Splash Screen.
The entire free license text is available here
What does a proper implementation‡ of the Superpowered Splash Screen entail?
It entails that the splash screen video play in its entirety (including audio) every time the app is launched. The splash screen cannot be altered or edited. No other logo may appear on screen or interfere with the playing of the video. The splash screen video may not be speeded up or slowed down.
Where do I find the Superpowered Splash Screen?
It is an MP4 here.
What if I would prefer to not show the Superpowered Splash Screen and my app has under 500,000 app-installs?
You will be required to purchase a White Label license. Please visit Pricing Request Page to request a custom quote.
How do you determine the amount of app-installs of an app?
The aggregate number of app-installs across target operating systems/platforms shall be used. For example, if "Foo App" has 100,000 app installs on iOS and 200,000 app installs on Android, then Foo App shall have 300,000 app-installs.
What if an app doesn't meet all three requirements?
Then it must be licensed via a white label license. Please visit Pricing Request Page to request a custom quote.
Are there any conditions that exclude apps from being eligible for free licensing?
Yes. The following use-cases are ineligible for a free license, and must purchase a white label license:
using Superpowered tech in an embedded device/hardware or controlling an embedded device/hardware via an app.
Any app that is pre-bundled on another device.
Superpowered technology as part of an SDK or platform.
Do you allow platform/SDK use-cases of Superpowered?
These are considered on a case-by-case basis. Please contact our licensing team via Pricing Request Page to request consideration.
Are there any hidden fees associated with the Free License?
There are no hidden fees or add-ons, unless Expedited Support or Custom App Development services are requested. The Free license comes with Basic Support, while the White Label license comes with Priority Support.
See Superpowered Developer Support Options here
What are the benefits of a White Label license?
Benefits of the White Label license include:
Ability to use Superpowered technology risk-free.
Annual license stability and predictability.
Fixed fee license structure.
Priority Developer Support. Guaranteed 24-hour email response.
Unlimited app-installs allowed.
Priority given to white-label license holders for bug fixes and bug reports.
No splash screen requirement or credit attribution necessary.
License transfer clause for acquisitions.
---